Winner of the Bronze Medal for Inspirational/Spiritual Non-Fiction from the Independent Publishers Awards for excellence (IPPY), designated a Winner in the Spirituality category in the Eric Hoffer Awards, and recipient of three medals from the INDIE Next Generation Awards – Spirituality, Christian Non-Fiction, and Best Overall Design.
"Walking with Dogs is a spiritual journey – not mine alone, but for anyone who has ever loved and learned from sharing a life with a dog."
Available for $22
The reader is invited to join author Marti Healy and dogs Sophie and Teddy through trails deep in a woods and over open polo practice fields, during sun-soaked summer mornings and on rain-misted autumn afternoons, pondering tiny pet memorial stones discovered in a once-private garden, and interpreting one dog's tacit refusal to watch an Easter animal parade.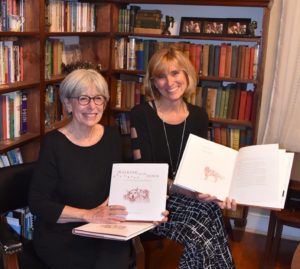 This is a book that concurrently invites you into a conversation of spiritual living and growth.  It proposes "what ifs."  It shares personal observations.  It gently suggests and describes.  But it is you – the voyager, the seeker, the reader along on the walk – who is encouraged to consider and explore and determine your own personal journey.  Ideally, of course, in the delightful, wise, and compelling company of dogs.
Reviews
"A trail worth walking."
"Here is a beautifully written reminder that God can be found everywhere, especially during the simplest of daily activities – like walking the dog.
"Even though the book title invites us on a "spiritual journey," this is by no means a heavy, ponderous, religious exhortation. It is as light-hearted as dogs Sophie and Teddy and their human, writer Marti Healy, who shares with us an insightful sense of humor.
"Beguiled by the easy gait of the dogs as well as the author's prose, the reader is also enticed by the gentle, sepia-toned illustrations, resulting in a highly readable, intimate book.
"I dog-eared many pages and marked passages for my own spiritual journey, and discovered that the trail created by this book is definitely worth walking."
Kathy Huff Cunningham
Publisher, Bella Magazine
"Love this book … one of the best!"

"Marti Healy KNOWS dogs. She is also the quintessential storyteller. These stories will refresh the reader with wonder and gratitude for all that our humble creatures have to teach us. I truly love this book! One of the author's best."
Trey Wofford, DVM
Palmetto Vet Calls
"A gift of peace."
"I feel so calm and peaceful after reading this book. What a gift it is to its readers! The writing and illustrations are soothing and grounding. Like a long, slow exhale, it quiets your soul and invites you to breathe deeply of the Spirit."
The Reverend Holly Shoaf-O'Kula
First Presbyterian Church
"I felt an authentic connection."

"If you've ever loved an animal, you need to read this book. If you've never loved an animal, you need to read this book. I felt an authentically warm connection to the two canine protagonists throughout the journey – and what a moving journey it is. The author has a gift for seeing the Divine in the ordinary; the stories are entertaining and evocative, introspective but also inclusive. The writing style is reflective, lyrical, and conversational, and the illustrations are the perfect complement, strikingly real and teeming with life."
Lorraine Ray
Teacher, Author, "Cheez-Us Loves Me"
Available for $22