This, and other columns by Marti Healy, that first appeared in The Aiken Standard.
"I personally assembled this collection of my favorite columns that I have written with great love and affection over the years."
Available for $15.00 each

It wasn't that Barbara didn't believe Aiken existed, exactly. She just couldn't believe in a place as delightful and picturesque as the one her sister, Marti Healy, was writing about on a regular basis as a contributing columnist for her new hometown newspaper, The Aiken Standard. Aiken was, after all, a place none of her family members had yet visited.
So, when Marti discovered her sibling's doubt and eye-rolling reactions to her writing, she responded by creating a column about it. And from this column came the title of the book.
Within the book are 50 of her columns – each one a tiny self-contained story, all gleaned from her experiences of living in a small southern town. The writing emphasizes a strong sense of place and "theater of the mind" – putting the reader in the center of each story.
Her personal style of warmth and empathy, and her ability to find the interesting and intriguing aspects of whatever she comes across in life, keeps her a popular columnist as well as a speaker on these works.
Many of her columns feature her various dogs and cats. In fact, a number of readers refer to her as "the lady who writes about the animals." In reality, her work embraces not only her own animals, but all those she finds roaming in and out of her life, the horse culture that is so strong in Aiken, as well as the other natural beauty inherent to the town and surrounding area. It also celebrates the people of the town, its children and its heritage, and all the bits and pieces of philosophy that flow through most of our hearts and minds as we go through life – especially life in a lovely, loving, home town such as Aiken.
Marti sums it up by saying: "I think my columns are kind of little love notes to a town that adopted me with open arms and hearts more than a decade ago, who gave me a hug and sweet tea and have been inviting me into their homes ever since."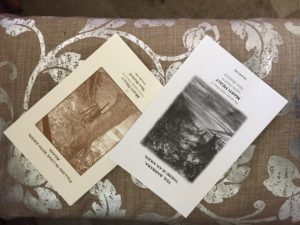 Volume Two of this collection is now also available:  "Falling In Love with Aiken, Again."   This book contains an additional 50 selected columns of the author's and reader favorites.  Please specify which volume you are purchasing with your order.  (Each is priced at $15.)
Reviews
"Marti Healy's elegant prose paints Aiken in the rich and warm glow it deserves. She captures the beauty of our community with a delicate and soft touch, bringing to life the joys of Aiken for both residents and to those who may never have had the pleasure to experience it."
Michael Gibbons
Former Managing Editor,
the Aiken Standard
"Though admitting to being a 'transplant,' Marti Healy is really an 'implant.' She has imbedded her soul in the community of Aiken, South Carolina. Marti's insight is amazing, and her characters are real, whether animal or human. It is delightful to read her new book and revel in its sense of place."
Sharon Marr Brown
Aiken resident, volunteer, former educator
"You cannot just read the words written by Marti Healy, you SAVOR them. The delightful descriptions and bright phrases make you actually live her words. You can smell the sweet tea olive blossoms and feel the little girl reaching for your hand at the Halloween parade, because her writing is so real. It captures this incredible Aiken perfectly."
Holly Wolz, DVM
Veterinary Services
"In this intimate and inviting collection of reflective essays about the enchanting real town of Aiken, Marti Healy offers proof that even a newcomer can become a true Southerner. Especially in a place where history, hospitality, memories – and especially magic – abounds."
Kathy Urban Huff
Publisher, Bella Magazine
"Reading a column by Marti Healy is a sensory experience unique to Aiken. Having them in a bound collection is especially appealing – both as an introduction to Aiken and the perfect gift for visiting friends."
Shelly Marshall Schmidt
Oh Schmidt
Available for $15.00